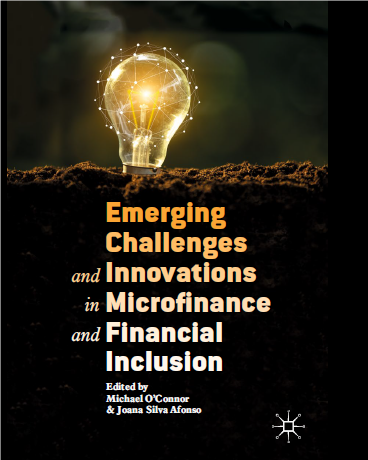 About the Book:
Microfinance is an unusual discipline, with one foot in the world of business and finance and another in the world of sociology and development economics. This means that the investors and practitioners from the business and finance side get to enjoy the wealth of research that accompanies the developmental side of the field, while academics gain partners and an audience beyond scholars and policymakers.
This publication gathers some of the best work from the fifth European Research Conference on Microfinance, organized by the University of Portsmouth, UK, in June 2017. Appropriately for the sector, it spans a wide range of subjects—some directly applicable to practitioners, such as the effectiveness and viability of Islamic finance products, or those aimed at strengthening climate change adaptation. For those actors with a more developmental or social orientation, there is an assessment of lending practice disparity between women and men and a "natural" control study of the market effects following the withdrawal of microfinance lending in Uzbekistan. And for those focused-on regulation and policy, there is a review of the impact of interest rate regulations on the quality of financial services.
About the editors:
Joana Silva Afonso is a senior research associate in the Economics and Finance Department at the University of Portsmouth. She has experience as both practitioner and researcher in the microfinance sector. She first became involved with microfinance in Portugal where she was a microcredit officer at Associaçao Nacional de Direito ao Crédito (ANDC) (nongovernmental organization—NGO) between 2005 and 2012. In 2013, she completed the European Microfinance Programme at the University Libre de Bruxelles (Belgium), which included fieldwork in the Dominican Republic. Between 2015 and 2018, as part of her PhD at the University of Portsmouth, she conducted research on the challenges associated with impact evaluation in microfinance with fieldwork in Pakistan and Zimbabwe. She was a co-organizer of the fifth European Research Conference on Microfinance which took place in June 2017.
Michael O'Connor is a Senior Lecturer in the Accounting and Financial Management subject group at the Faculty of Business and Law, University of Portsmouth. As a law graduate and finance professional, he has worked with Andersen and KPMG in Ireland as well as the European Commission in Brussels. He has significant overseas experience in Russia and China, particularly in financial training. In this regard, he has also worked as a contractor for international consultancy firms on behalf of public and private sector clients in Western Europe, West Africa, and Central Asia. He is a graduate of the European Microfinance Programme (EMP) at Université Libre de Bruxelles (Belgium) and was a co-organizer of the fifth European Research Conference on Microfinance.