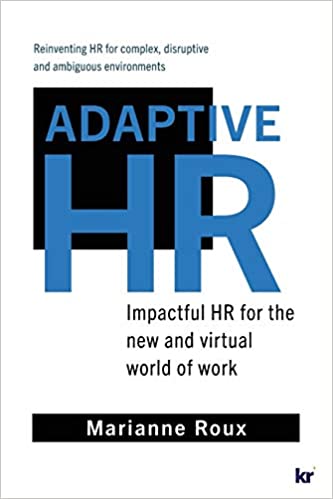 About the book:
Developed more than 20 years ago, current HR models are no longer relevant in the new world of work. If HR is going to provide the value and impact needed right now, a holistic reframing of the function, its purpose, capabilities, delivery, and impact is needed! Adaptive HR: Impactful HR for the New and Virtual World of Work is a complete guidebook to help HR professionals accelerate this transformation within their own organizations. Adaptive HR: Impactful HR for the New and Virtual World of Work gives HR practitioners practical and evidence-based tools they can implement immediately to increase the value and impact, of their HR function in complex, disruptive, and ambiguous environments. This book will give you a complete overview of: • What the new world of work and the virtual age mean for organizations, employees, and HR. • The business case for strong people strategies that drive organizational sustainability. • How to futureproof the HR operating model, structure, and capabilities. • How to co-develop differentiated and compelling employee experiences. • The changes in talent management in the new world of work. • The need to be a data- and analytics-driven HR function. • How HR is crucial in leading dual transformations and generative change. • How organization design can challenge current ways of structuring organizations. • An updated approach to leadership, leadership development, and high-performing and virtual teams. • Where to start this transformation journey!
About the Author:
Marianne Roux
Marianne has over 25 years of global experience as a New World of Work Strategist, Leadership Educator, Transformation Consulting Director, and HR Executive. She currently runs Roux Consulting, a global consulting firm with 15 collaborators around the world. She is also an Associate of Melbourne Business School, Stellenbosch Business School, and Swinburne University of Technology.
Marianne has experience across several industries including Retail, FMCG, Mining, Oil and Gas, Utilities, Infrastructure, Media, Financial services, Telecommunications, Sport, NFP organizations and Tech start-ups. She has worked for PWC, Accenture, Deloitte, and Mercer, and has held two HR Director roles.
She has a keen interest in the new world of work and how organizations, leaders, teams, and individuals can prepare themselves for it. Her PhD research focuses on a meta-model of leadership and leadership development in the new world of work. Marianne also works pro-bono on developing women and alleviating poverty and trauma. She serves on the Board of Hagar Australia and is the founder of the Coalition of Female Social Entrepreneurs.
Marianne was chosen as one of 52 Inspirational Women at Work in South Africa in 2004, one of 20 Female Entrepreneurs by Management Today in 2011 in Australia, and in 2015 she won the Excellence in NFP Consulting award from the worldwide Who's Who.