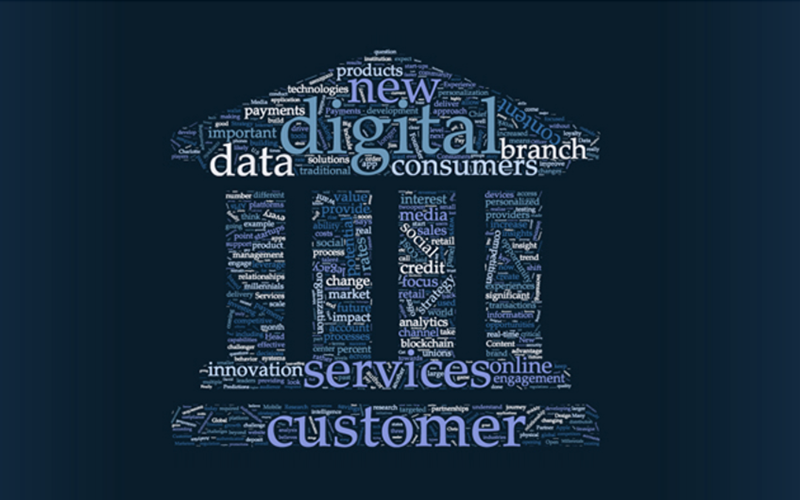 Banking industry is one of the most evolving sectors in any economy. It is an industry that has to continuously embrace technological advancements and banking products' innovations, meet any alterations in customer expectations, besides persistently being commited to being the backbone of the economy. Having said that, the banking trends' section of the magazine would be spoting light on a newbanking trend in each edition. Such current trends would be the future banking norms. Thereby, the importance of being introduced to it, reading about it and equiping the skills to excel in it is pivotal for all banking professionals.
Banking Trends: Biometric Payments
There is no doubt that biometric authentication for payments is the way the world is heading. This is attributed to various reasons, at the top of these is; security advancement. When it comes to the matter of money, transactions, and finance, security is always paramount. Biometric technologies have redefined the way we look at security. With its wide array of applications in the financial and banking sector, users will continue to enjoy top-notch security.
In this article, we will see what biometric payment technology is and how it can transform the landscape of digital payments. But first let's understand the biometric technology. Biometric authentication is a security measure which uses biometric features of a user to verify the identity of a person trying to access an authorized device. Biometric features are nothing but unique biological and physical characteristics of an individual that can be compared against the authorized features stored in the database. If the biometric features of the individual matches the feature of an approved user stored in the database, then the user will be granted to access the device. Otherwise, the access will be denied. In this regards, types of biometric authentication happen to be: Fingerprint scanners (most common types of biometric authentication that is used in smartphones and many other devices), voice identification, eye scanners and facial recognition. Moreover, biometric technology is being continuously worked on to provide even more secure solutions.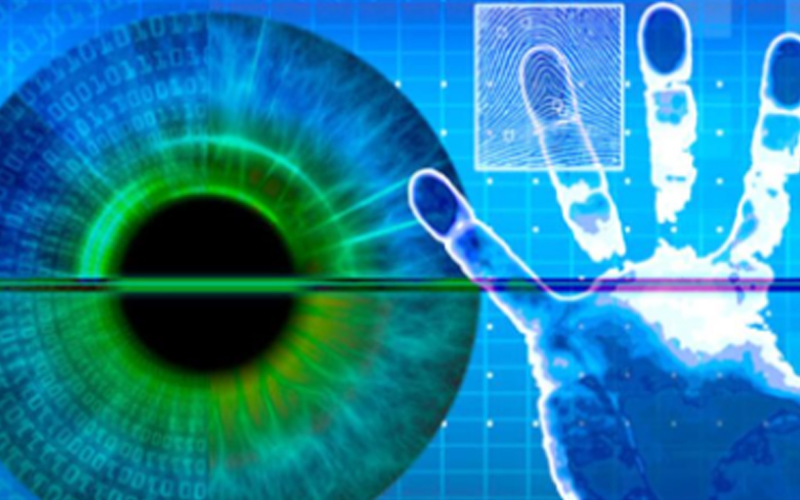 Applying such a technology on the business of payments, led to the emergence of biometric payments, one of the most needed methods of payment in the future, especially after the outbreak of Covid 19. Biometric payment is a point of sale (POS) technology that uses biometric authentication to identify the user and authorize the deduction of funds from a bank account. Fingerprint payment, based on finger scanning, is the most common biometric payment method. Often, the system uses two-factor authentication, in which the finger scan takes the place of the card swipe and the user types in a PIN (personal ID number) as usual.
Biometric technology is fast becoming a part of daily life through its integration with mobile devices, many of us are interacting with some form of biometric authentication daily. Thereby, biometric payments have been enabled through mobile phones, where the customers can have a full access to his account through the identification of his biometric features (fingerprints, facial or voice recognitions).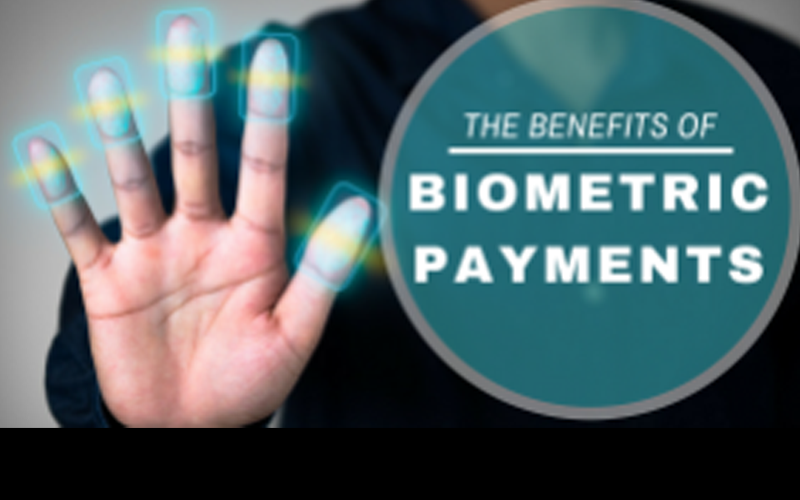 Only time will tell how successful biometric will prove to be for digital payments. However, for the time being, there are agreed on cited advantages that the world of payment is reaping. Some of which are:
Ease of use; no need to remember multiple PINs and passwords.
Enhanced security for the end user; a unique and personal way of identifying individuals
Speedy transactions; authenticating using a biometric identifier is quicker and easier than entering a pin or password. This benefits both the consumer as well as businesses
Pay anywhere; as more and more retail outlets move to a contactless payment model, the uptake of consumers choosing to pay using Apple and Google Pay on their mobile devices, authenticating with biometrics, means that you can pay anywhere, anytime.
No need for the end user to carry cash, checks or credit cards
Lower cost per transaction for the merchant, compared to standard debit or charge card fees.
Biometric payment cards offer number of other benefits as being self charging; the biometric sensor is powered by the payment terminal, ensuring there is no embedded battery or need to re-charge the card.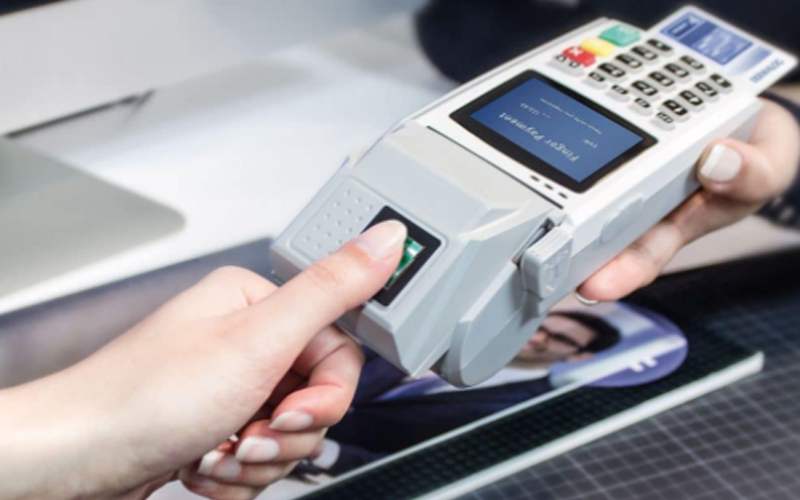 In this regards, for a better understanding of the biometric payments it is beneficial to present some illustrative ways of using it, as follows:
Fingerprint payment system processing steps at stores:
The customer registers for a biometric program at a store kiosk by presenting valid identification and bank account information.
The customer scans his index finger using the kiosk's finger scan reader.
The customer's finger scan reader encrypts multiple point-to-point measurements of the fingerprint and stores the customer's biometric data and banking information in a centralized database.
The customer now has the option of selecting biometric payment at the point of sale register. If he chooses biometric payment, he scans his finger at the checkout register with the store's electronic reader and enters his personal identification number.
The electronic reader compares the data from the new scan to the encrypted data in the database and either approves or declines the transaction. If approved, the funds are electronically transferred from the shopper's account to the merchant.
Using mobile banking application which are biometric featured (accessing mobile banking application without any password);
Install the application of the mobile application (of the bank that utilized biometric featured security measures)
Open up the camera, then take a selfie of your own.
That will enable an easy access to the bank account, without any passwords required
For every single transaction to the bank account, the application will ask to do the same process
If the customer needs to access the account from the laptop instead, the account may ask for the phone number and the process of facial recognition (or whatever is the biometric option chosen) will be undergone on the mobile first.
Using payment cards (like those of Visa or MasterCard) of a new dual-interface (chip- and contactless-enabled)
The cardholder enrolls the fingerprint, which is securely stored on the card. When he or she places the finger on the card's sensor during a transaction, the card senses whether the scanned print is the same as the print stored in the card. A green or red light on the card indicates a successful or unsuccessful match.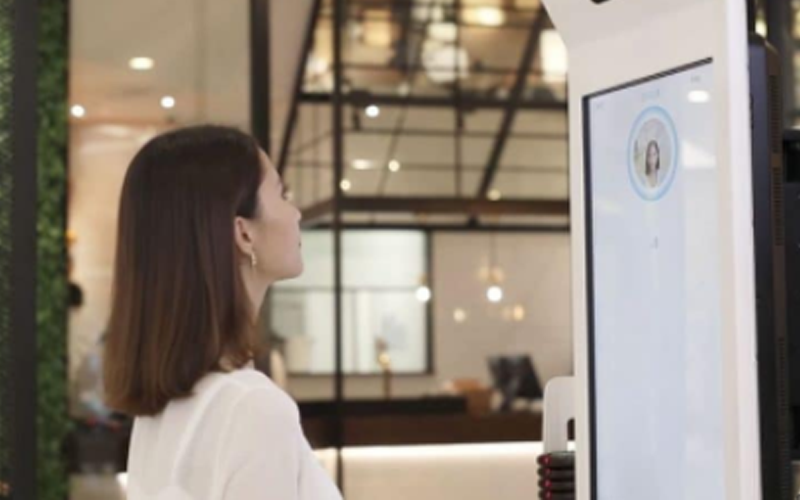 Motivated by the numerous pros of biometric payments, banking and financial payments pioneers stepped up to seize its market. Whilst the USA and Europe are often seen as innovators, it's actually India who lead the way when it comes to biometric adoption for payments. They currently have over 1 billion consumers who have established a digital identity with the government. Fingerprint and iris recognition captures are kept on file along with an image and this is then used for the collection of social welfare payments.
As for USA, biometric payment has gained popularity in grocery stores, gas stations and convenience stores. In March 2006, Pay By Touch, the leading biometric payment provider, reported that more than two million customers had enrolled in their biometric services and that Pay By Touch had authenticated approximately $8 billion in transactions. Additionally, according to a survey conducted by Transaction Network Services (TNS)[1], 18% of US adults in the survey had already made biometric payments. Also, according to a 2017 Visa Biometrics Study, which surveyed 1,000 Americans to explore their awareness and perceptions of biometric authentication, most are aware of several biometric technologies. While most consumers are aware of voice, facial and eye scan biometrics, behavioral and vein pattern biometrics are less well-known.
In Euro area in 2018, non-cash payments increased by 7.9 percent to 90.7 billion in 2018 compared to 2017. According to data from BIS (Bank for International Settlements), cited by Juniper Research in its whitepaper, "the value of banknotes and coins in circulation in the Euro area is steadily declining."
Furthermore, Visa and Mastercard are leading the way to biometric cards in the world of payment. In details, Visa are rolling out new payment cards through Mountain America Credit Union and Bank of Cyprus which will feature an on-card biometric sensor for contactless payments. The card will test the use of fingerprint recognition as an alternative to PIN or signature to authenticate the cardholder during a transaction. This will be the first pilot in the U.S. to test an on-card biometric sensor for contactless payments. The pilot is part of Visa's programme to support the growing demand for biometric technology in the payment category under the Visa Ready for Biometrics programme. As for Mastercard, they took a role on that too by launching its first Biometric Card. Master card biometric card combines chip technology with fingerprints to conveniently and safely verify the cardholder's identity for in-store purchases. An embedded sensor authenticates identity through a fingerprint, building on fingerprint scanning technology used for mobile payments today and can be used at EMV terminals worldwide.
Digging more into individual banking experiences with biometric payments, here are some important examples to be mentioned;
As for the future anticipations of biometric payments as a trend to be pursued by banks, evidences show that inserting pin codes and memorizing passwords is going nowhere but obsolete. Some of the recent surveys confirmed that as follows;
According to a 2017 survey by Visa, two thirds (65%) of consumers reported that they are at least familiar with biometrics. With this big uptake in familiarity and use, it's perhaps no surprise to see a rise in the number of transactions that are now authenticated using biometric technology.
New research from Juniper Research found that mobile biometrics will authenticate $2 trillion worth of in-store and remote mobile payment transactions annually by 2023. This represents a huge jump from the $124 billion expected for 2018 and indicates not only a shift in consumer adoption of biometric authentication, but also rapid advancements in the technology being used to present these opportunities for biometric authenticated payments.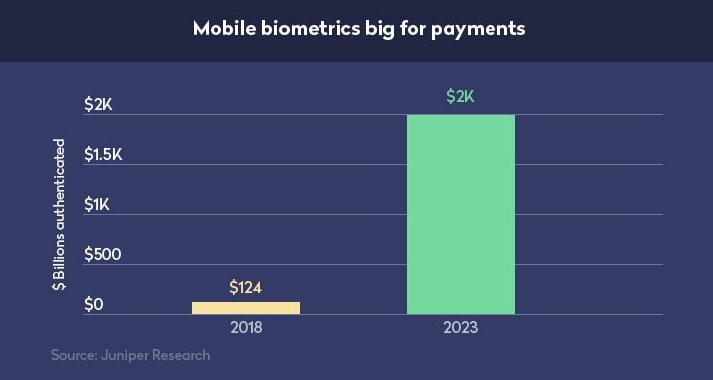 Another Jupitar Research paper titled" Key Trends in the POS Hardware Market", says that the installed base of contactless-enabled POS devices will register 107 percent growth by 2024, surpassing 161 million.
The Mobile Payment Authentication & Data Security: Encryption, Tokenisation, Biometrics 2019-2024 report suggests that 90 percent of smartphones will have dedicated biometric hardware by 2024, but less than 30 percent of them to be used to authenticate contactless payments, due to the use of contactless cards.
NEC New Zealand analysed the future of facial recognition and what this might look like in 2020. One such area is the use of facial recognition for complete contactless payment. The credit card details will be associated with the facial recognition profile and payment will be made simply by presenting the face. This is already under development in Taiwan and Japan at 7-Eleven stores who are rolling out staffless stores where customers can do everything from accessing the store to making a payment using their facial recognition profile.
Finally, integrating Biometric payments into the financial systems and spreading its utilization is not a risk free mission, it encompasses number of challenges, mainly related to:
Biometric Template Security; the security of biometric templates has a high priority that needs more attention, since they are unchanged overtime and cannot be reset (unlike passwords). Furthermore, one biometric feature is usually used in various applications, thus if the template is loss in one application that will be reflected on all relevant applications as well.
Recognition Accuracy; unlike password-based authentication system which can achieve a perfect match between an input password and the stored password, in a biometric authentication system, it is impossible to find out two perfectly matched feature sets, even if these two features are originated from the same trait of a user. Therefore, various interactions between the user and the sensor are being used to identify the match.
Social Acceptability and System Integration: though surveys reveal that most of the populations believe that the biometrics is more convenient and safer than passwords, however, there are some people against the use of biometrics in payment. Their argument is mainly based on the lack of trust in technology. Others are having an idea of that the exposure to biometric sensors may cause a potential unknown risk to health. Finally, there are small portions of people who would not repel the use of biometrics but fail to enroll their features into the system due to the absence of reliable biometrics features.
To conclude. the concept of using biometrics for individual identification is not new nor is it a futuristic technology. However, integrating it into our money transactions is the new idea that the world is experiencing, adopting it and actually starting to prefer it. New motives have accelerated the pace by which we may deploy biometric payments, as such of COVID 19. However, mitigating the challenges is a key step to reap the benefits without incurring loses or risking one of the most important banking assets: Customer's data and biometric identifications.
---
[1] TNS commissioned a US compass international omnibus survey by TNS Global in February 2016 which covered 1050 us adults.
By Yasmine Anwar -Researcher at Egyptian Banking Institute